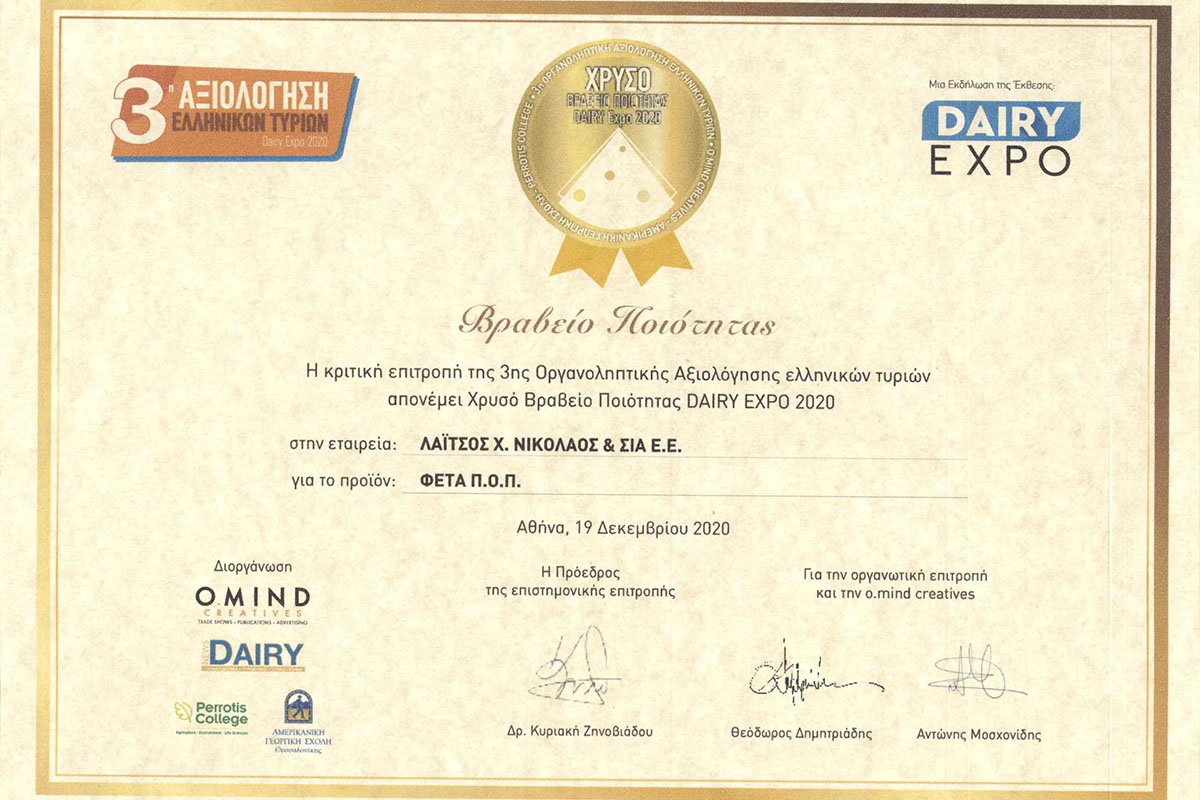 FLEGGA cheeses "Gold" awards 
In a pan-Hellenic competition with the participation of dozens of cheese companies
Gold awards for the quality of its cheeses were won by the company from Velestino Nikolaos Ch. Laitsos & Co., "Flegga" in a pan-Hellenic competition, in which dozens of cheese and dairy companies participated.
The competition was organized by the company O.MIND CREATIVES in collaboration with Perrotis College and the American School of Agriculture in Thessaloniki, while the Evaluation of Greek Cheeses was presented through the online magazine Dairy news.
The aim of the competition was to highlight the quality of Greek products and the "present" was given by producers and companies from all over Greece.
Teams of scientists specializing in dairy and cheese products rated the cheeses and awarded prizes.
The company "Flegga" from Velestino participated in the competition with two types of cheese, Feta PDO and Graviera with peppercorns, managing to win two gold awards.
The announcement of the results was made a few days ago with the local cheese company receiving the congratulations of the jury of the competition.
"The award in this great pan-Hellenic competition with the participation of many well-known and good companies in the industry is another recognition of the quality of our products and confirmation of the creative course of the company. In fact, these are two types of cheese, which are blown away by our customers and now comes the distinction in a competitive and high level competition ", emphasizes the manager of" Flegga "Mr. Christos Laitsos
Mr. Laitsos adds that "Flegga" Company continues the local cheese and dairy tradition, taking care to incorporate the new elements, in order to cover the constantly evolving needs of the consumer public.
For this reason, we renew our products while maintaining the excellent traditional technique ". He concludes by saying that "even in this particular health condition we evolve by having excellent cooperation with breeders and keeping strong the team of our partners who work every day to offer our dear customers the products they have trusted for years. And we warmly thank them for their support in all these difficult times we live in ".
The "Flegga" Dairy operates in modern facilities in Velestino, having all the required certifications from the competent bodies for the production of PDO products. as well as organic products. The distribution of quality cheeses and dairy products is carried out by the four points of sale that operate in Volos, as well as by selected retail stores throughout Greece and abroad.